Last Entries From "The News"
September 2, 2005
By now most of the llama world knows that The Fiduciary has died. He finally got so weak he couldn't rise and was
having trouble swallowing his food, so we had to take the decision to put him down. We buried him in his pen, only
a few feet from the spot where he loved to stand up on the fence when he was in his prime.
There was a bad moment when Sally and I stood at the graveside to say goodbye and thank this once-magnificent
animal for all he had done for us. Up till that point we had been occupied with doing what had to be done, but then
the reality hit us that we would never see him again when we looked out the back window, and visitors to the ranch
wouldn't find him ready to pose for photos on the hillside.
We were so saddened by losing Fidoosh that we just couldn't get up to do anything productive yesterday. We put
our horses in the rig and set off for Yellowstone for a day of loping through the meadows, getting back home late
in the afternoon. We were comforted and a little shocked at the number of messages of condolence that had arrived
during the day, and we intend to respond to those as we have the time.
August 20, 2005
The Fiduciary meets his final offspring. Fidoosh has been failing for the past year or so. He is very thin and has
trouble standing. Next month he will be 21 years old, and he can no longer get into position to breed. This baby,
Fiduciary's Last (x Arg Cali), a female, was conceived the last time he bred. We've been keeping Fidoosh with the
main herd, but yesterday he asked to get back into the pen where he has spent almost his entire life. We're letting
him decide these things.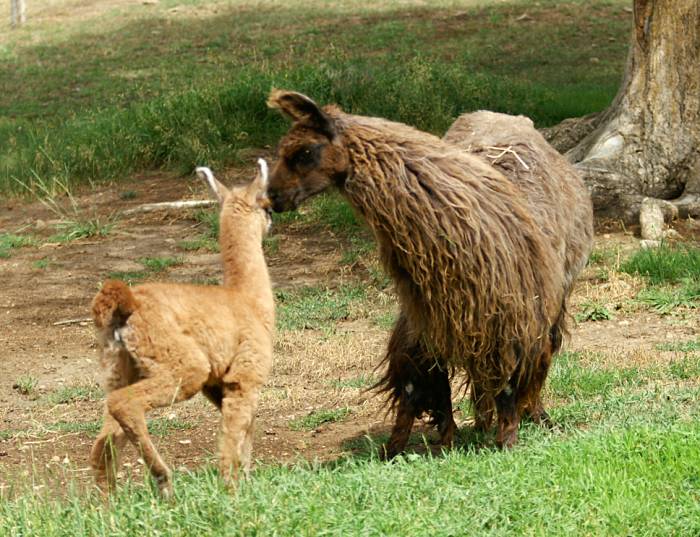 August 1, 2005
Fidoosh, now more 20 years old, had a bit of trouble with the cold last winter. He stayed down in one position
so long that he couldn't stand up by himself. We helped him to stand several days in a row and began to think it was
coming time to help him depart this life with dignity. We decided to try putting him in the "special needs" group, the
pregnant females near to delivery, new moms and babies and a few old or debilitated females most sensitive to the
cold. This turned out to be a real tonic for him and he made a miraculous recovery. He seems to love interacting with
the babies and they with him. Now he patrols the boundaries and herds his little group like the patriarch that he is.